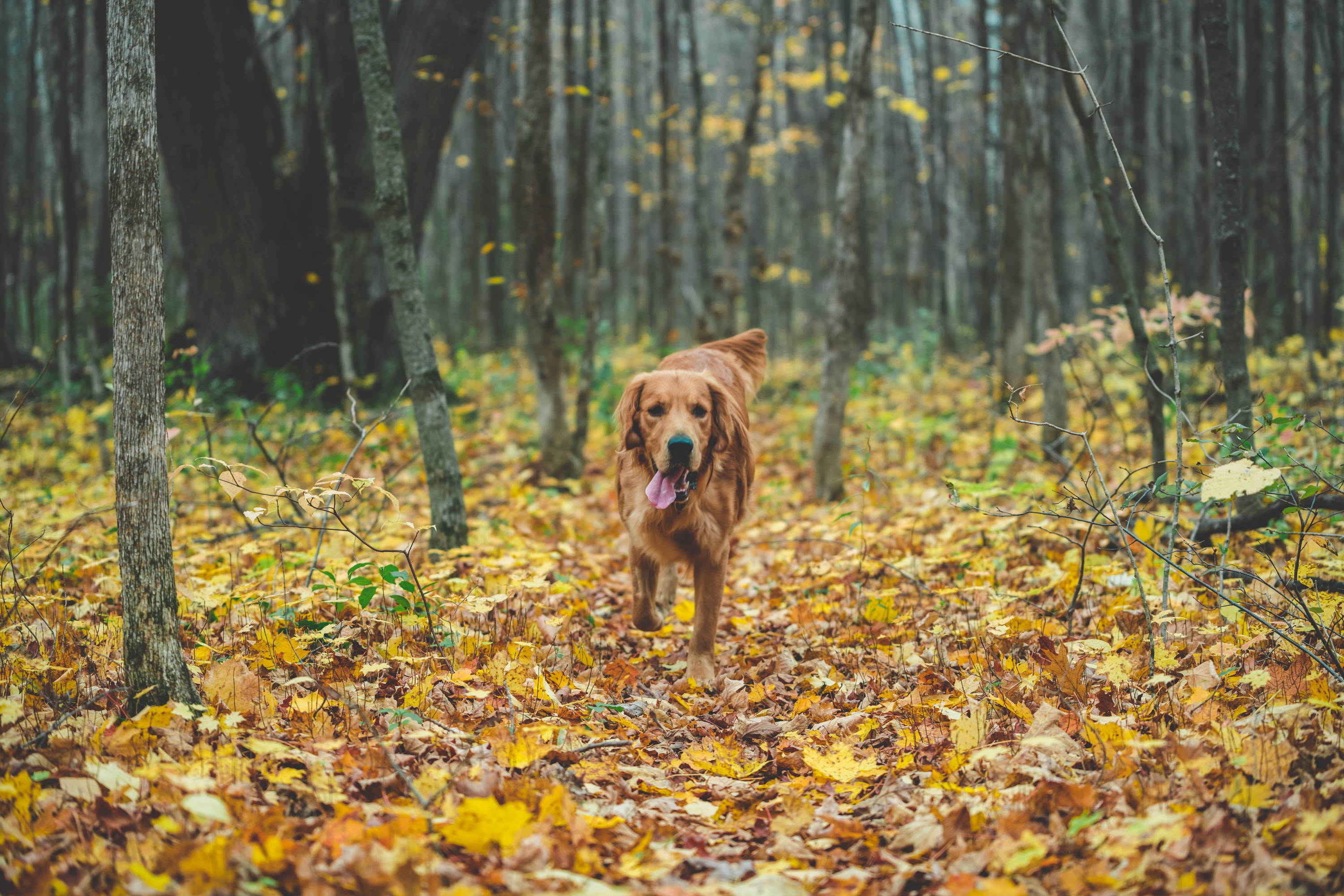 Walking and Wagging: Great dog friendly trails in and around Exeter, New Hampshire
---
The New Hampshire seacoast area boasts some amazing and easy-to-access hikes for you and your four-legged friend.
---
When we moved from upstate New York to Exeter, NH, we left behind countless state parks and wonderful walking trails that were practically in our backyard. Having beautiful places to walk the dogs and nearby lakes in which all of us could take a refreshing swim, we were definitely spoiled by aspects of our environment that were taken for granted.
The landscape of the NH seacoast was completely different from what we were accustomed to, and finding trails to walk or hike with my dog took a lot of time, often taking us to places that were less than ideal. Many years, and two dogs later, we are still exploring, but definitely have our favorite spots.
Phillips Exeter Academy is one of our closest destinations, and the Red Trail, a 2.7- mile loop, is the most traveled on their grounds. We typically park on Gardner Street off High Street in Exeter, NH and start our walk from there. Most of the trail is well marked, although when walking on the section that borders the Exeter River, things can get a little messy! It's not a bad idea to wear a good pair of waterproof boots. The river is prone to flooding in the spring, which often puts plant and tree debris on the trails and uproots some of its little foot bridges. For most of the year, the walk is easy and it is fun to explore the woods and see the wildlife along the river corridor. The Academy does ask that dogs be on a leash.
The Oakland Town Forest, also known as Fort Rock and also in Exeter, NH, is widely known as a haven for mountain bikers, but it is also a great place to take your pup for some exercise. This 230-acre area is managed by the Exeter Conservation Commission and is an interesting place to explore. The terrain is uneven, has lots of amazing boulders, ledge outcroppings, mixed woodlands, and isolated wetlands. Rugged, waterproof boots with great traction are a must. The Conservation Commission and volunteers have done an amazing job installing boardwalks and bog bridges, making walking easy. As with most places, it is recommended that dogs be leashed. I have heard stories about encounters with coyotes, and although I know they are around, we've never come across any. If we think of it, we bring along some citronella spray for protection, just in case! It supposedly works! Oh, and there is ample parking available at the start of the trail.
A bit further away is the Sweet Trail. This is a 4-mile long trail that runs from Longmarsh Road in Durham to Great Bay Estuary in Newmarket, NH. This is not a loop trail, although there is at least one section that offers a choice of paths, or loops, along the way. This is a beautiful trail with open, upland forests, freshwater wetlands and tidal salt marshes. As with the Oakland Town Forest, they also have some beautiful boulders and rock outcroppings. The trail has some moderate hills to climb, and the trail width varies from very wide to narrow. There are also some little bridges to get you safely across some of the wet or muddy areas without disturbing the wildlife….or getting your feet wet. Because this is a sensitive natural area, dogs must be leashed. They even have a leash hanging on a post at the start of the trail for you to borrow in case you forgot yours at home!
Another great stroll with your four legged friend is the Rockingham Recreational Rail Trail, which is a 27-mile long trail that runs from Manchester to Newfields. There are many places to pick up this trail, but the easiest is in Newfields where you can park next to the abandoned Railway Depot off Ash Swamp Road. As the name indicates, this originally was a railway so the trail is flat and more like a gravel road than a trail! Between long stretches of this rail trail, there are road crossings that you need to be aware of if you have your dog with you, and off leash. The area is forested, but you pass beautiful wetlands where countless birds and wildlife call home. Snowmobilers do use this in the winter time, and in the spring, parts of it can be pretty muddy (again, waterproof boots are good to have in the Spring!) but generally this is a very easy trail to walk on, and your pup will enjoy it as much as you will!  
Although this next one is not in New Hampshire, it is close by, and is also one of our favorites! Maudslay State Park in Newburyport, MA claims to have 488 acres containing an impressive number of interwoven trails! There are big, rolling meadows, towering pines, 19th century gardens, beautiful views of the Merrimack River, and more! Horseback riding is allowed here, as are dogs (leashed, of course), and you will likely see both if you go during the summer months! Although you are on the seacoast, don't be fooled into thinking that this area will be flat! There are definitely hills to climb here, but if you are not interested in scrambling up and down those, there are plenty of large flat stretches, particularly in the areas close to the parking lot. Most of the trails are wide, but there are some fabulous places where you can squeeze through some paths that have been maintained through rhododendron 'forests'! You'll feel like a Hobbit here! This is a popular destination, but because of its acreage, and number of trail choices, it is possible to be here without feeling like you are walking with a crowd. Just so you know, there is a small fee for parking, and there are restrooms, although they probably are not open during this Covid-19 pandemic.
And our last destination is the Tower Hill Pond trail, which is a moderately trafficked, 3.8-mile loop trail in Auburn, New Hampshire. This area is easy to find and only a short drive from Exit 3 off Route 101 (Take Old Candia Road to Tower Hill Road). Parking on Tower Hill Road can be tricky, as this is a narrow dirt road, but you'll usually see cars parked at or near the multiple access roads to the pond.
Grab the first good parking spot that you see! Although it's described as a trail, it's more like a fairly well maintained dirt road that circles Tower Hill Pond. For most of this easy walk you're either next to this beautiful body of water, or within sight of the water. This is part of the Manchester Waterworks so there are enforced restrictions. You will be very tempted, but unfortunately you and your dog can't go swimming here. As with the Rockingham Rail Trail, this area is popular with snowmobilers and you will see lots of signs that have been posted for them.
Although we haven't tried these, there are trails that go off to the side of the main loop that you can also explore with your dog!