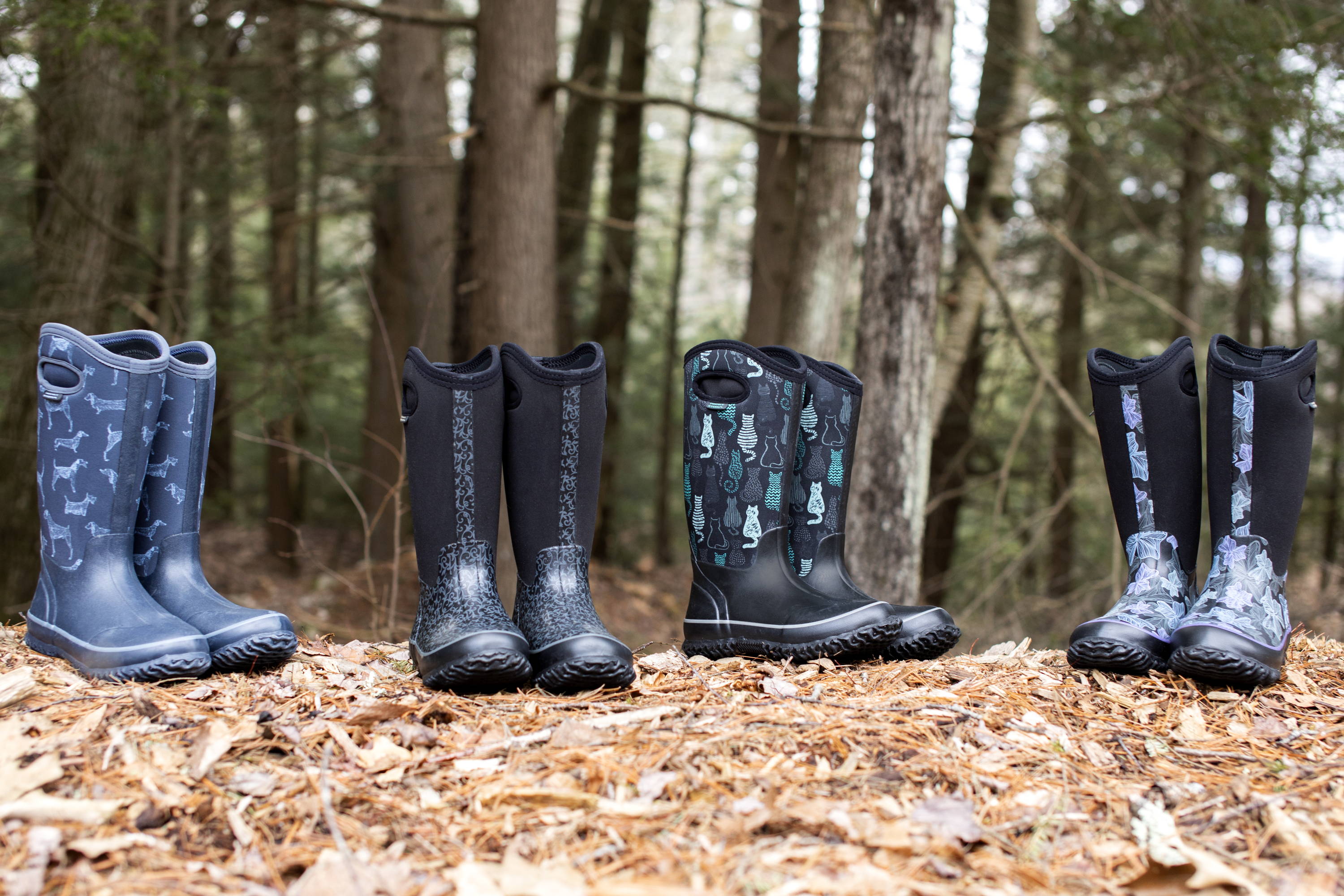 Winter Boots? Work Boots? Rain Boots? The Perfect Storm For All Occasions.
---
Our community offers some kind words about their favorite Perfect Storm boots.
---
Cloud High frost midnight
Growing up in New England meant I had to have the best women's winter boots I could find. With the unpredictability that is New England weather from week to week, boots that were warm, insulated, and waterproof were a must.When I was a kid I wasn't one to worry about fashion; warm and waterproof was the way to go because I was going to be out on the sledding hill for hours!
As I got older I became more aware of fashion and also how there weren't many options for stylish women's winter boots. In 2013 I moved to LA but returned home to New England for a visit each winter. Before I left I created a bin of cold weather clothes and stored it in the closet in my childhood bedroom. I still get excited to this day when I get to reacquaint myself with my old favorites. Warm, cozy tops, plush wool socks, puffy down jackets and snow pants.  
A couple winters ago, I added a pair of Perfect Storm Cloud High Frost Midnight women's winter boots to that bin. They were far and away the best winter boots I'd ever owned. I still love to go sledding with these boots, and they keep me warm all day. Plus I can wear them to and from the Dartmouth Ski Way. I can certainly count on them while I am out running errands, because you never know how deep that slushy parking lot puddle might be or when you're going to have to crawl over the unexpected snowbank that the plow left behind your parked car! Not to be overlooked, they match with everything I own and are the best looking women's snow boots I've ever put on my feet.
- Julia C.
---
There's an old Mark Twain quote, "If you don't like the weather in New England now, just wait a few minutes." This could not be more true than in early spring and late autumn in New Hampshire. Having the best women's rain boots during those sloppy transition months is crucial. For me, reliable protection is most important but I want one versatile pair of boots as opposed to several "specialists". Whether it's a run to the store, spring cleanup around the yard, picking the kids up at school, or collecting the last of the veggies from the garden in October, there's a decent chance that it could be cold and rainy.
I'd never really found a pair of winter boots or rain boots that were versatile enough to be stylish enough to wear in my everyday life while offering me the protection I need when doing chores around the homestead. A friend told me I should check out Perfect Storm. He told me that they were a New England footwear brand and that they made a variety of waterproof boots for both work and play.
After checking out their offers, I decided to give the Lucia II a try. I couldn't have been happier. One thing that jumped out right away is that not only were they waterproof, but they were insulated too. Where I live, that's a big deal. Spring can last into May and the colder temps can start to show themselves in September, October for sure. A little insulation goes a long way, especially compared to the flimsy rain boots that are sitting in the back of my closet.
My Lucia's were a great find. I love that they take their style cues from tall equestrian boots and that they are 100% waterproof. They look great with skinny jeans and Carharrts alike and show very little wear. I just hose them off and you'd never know I wear them straight from the chicken coop to the grocery store.
-Christine B.
---
Mudonna Mid & Cloud High Chalk Dogs
I'm a reluctant gardener. I didn't used to be, not when I was growing vegetables. But after leaving my veggie rows behind in Vermont for the flower beds we inherited at our new house in New Hampshire, I found it just a little bit harder to fully commit. Sure, flowers are beautiful and it makes me happy to know that I'm helping our diminishing pollinator population, but it's just not the same. For me, growing your own food from seed, harvesting and feeding your family with the fruits of your labor is much more rewarding.
This spring, however, I decided to embrace the flowers while at the same time trying to introduce some of my favorite veggies into the mix. It was a lot of hard work and a lot of mud, weeds, and mulch.
Our house doesn't get a ton of sunlight. We're tucked in the woods and surrounded by tall oaks and pines. Most of the spots that do get adequate sun are already occupied with numerous flowers I can't Identify, the five different colors of peonies, or four different types of bearded irises. In order to get the veggies in the ground I either needed to get rid of some flowers or dig up a few of the remaining smaller spots in the lawn that could get decent sun. I decided to leave all of the flowers and instead, tear up some sod so I could plant some yummy tomato plants and a little herb garden.
After some research I decided that waiting for a nice soaking rain to help the soil loosen up would make it much easier to break up the sod and build the beds. Thankfully it was a very wet (and sometimes snowy) April and May so there wasn't much of a wait. Boy was it messy!  
I've always been a right-tool-for the-job kind of person and high on that list for any project is the right footwear. Happy feet just make the day THAT much more enjoyable… or THAT much less miserable. In this case, the call was for a sturdy pair of rugged, waterproof boots to protect me from all that to which I'd soon expose my toes. Thankfully I already had that box checked with my Mudonna work boots. They're the best women's work boots I've ever owned and they didn't let me down. Together with some old jeans and plenty of determination I built a nice little spot for a few tomato plants, some basil, chives, rosemary and thyme. Not exactly the kind of garden that's going to feed your whole family but it's a step in the right direction! I'm looking forward to some homemade bruschetta this summer and plan to freeze the herbs to use in the winter months.
Speaking of the right tool for the job, I have to admit that I own two pairs of Perfect Storm boots. In addition to my amateur gardener status, I'm also an avid dog walker. Well, maybe a better way to put it is that my dog Otis has an insatiable need to walk. He's more than just a willing partner, he's my motivator. We're lucky to live on a small trail network so I can pop outside my door anytime for a quick hike.
New England trails can be rough. Uneven terrain littered with roots, rocks and plenty of mud is more common than not. It can make for some challenging walks. Oftentimes you can't just coast and daydream, you need to pay attention to your steps. Over the years the deer tick population has gotten worse all across New England too. Lyme disease can be really serious and it's something that you have to keep in mind spring through fall.
Back to Otis. He's another living breathing, unpredictable hazard in his own right. Being a beagle mix, he simply can't resist lunging at every chipmunk we encounter, and there have been millions of them this season. Toss in the occasional bunny sighting and the guy seems to always have me looking for secure footing.
Making sure you have the right gear to take on this multitude of potential hazards is important. Experts suggest that you keep your skin covered to keep the ticks at bay. Long pants and tall boots are probably your best defense. Minimally they suggest finding the best bug spray you can and applying it to any exposed skin. You can go chemical with something that includes DEET to be sure to repel them or organic with a lemon eucalyptus base. Either way, make sure that, whatever you choose, it's approved by the EPA.  
As for managing the New England terrain, rugged, durable waterproof boots with good traction are essential. A sturdy pair of hiking boots are a great option for the warmer months. I personally prefer a lightweight ankle height boot made from breathable materials during the hottest weeks of the year. Fall through spring though, you'll always see me in my Perfect Storm Cloud High boots. Being the dog person that I am, I own the Chalk Dog pattern. I'm pretty sure Otis approves. The rubber/neoprene construction is bombproof and 100% waterproof top to toe. Plus they're super comfortable and impenetrable by ticks, sticks, jagged rocks and even sharp dog toe nails! My daily trail stays pretty wet all year long so the other thing I absolutely love is that I can hose them off at the end of the week and start fresh the next.
- Amy P.